The butterfly effect
December 22 2008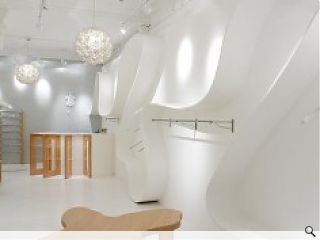 A unique lifestyle boutique in the south side of Glasgow has metamorphosed from the cocoon of a traditional ground floor tenement unit and spread its wings at 8 Skirving Street, Glasgow.
Designed by Jonathan McQuillan the bespoke interior comprises a flowing, free form, feminine feature shelf that runs the full length of the shop from floor to ceiling. The dips and curves not only provide shelving and frame clothing but instill a sensual feminine quality that excites the senses.
This aeorodynamic form is picked up in a bespoke "butterfly table" and sales counter, handcrafted from Douglas Fir and laser etched Perspex sheets.
The unconventional approach required close collaboration between McQuillan and joiner Paul Burns, who on a modest budget of £15k devised an innovative method of forming and fixing.
Eschewing the Glasgow kiss of old Butterfly Kisses embraces design for fashion conscious Shawlandistas.
Images provided by Paul Cameron (
www.paulcameronphotography.com
)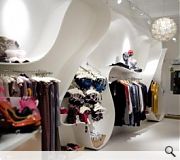 Back to December 2008