Wilson's Weekly Wrap: Crackers or what?, Joining the club & Zaha-stan
December 22 2008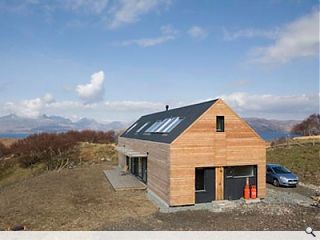 Crackers or what?
The holiday season is upon us, so hopefully this week's Wrap will help fill those dull moments between the office party and the familial bonhomie of Xmas day. Of course, the office party might have been unusually good this year and the recovery period a teensy bit extended, in which case it's now at least Boxing Day and you'll have worked your way through all the crackers and are in search of fresh amusement. Whatever, now that you're here, buck up and concentrate – after this and next week's end-of-year Wrap we'll be asking questions.
From Tokavaig to Nova Scotia
Admittedly there's a bit of a dearth of cheer on this year's seasonal front, but there are a few positives around well worth highlighting. The first is the hour-long programme broadcast this week on a completely obscure Sky channel about the construction of the Shed at Tokavaig, Mary Arnold Forster's house on Skye. Mary, for those of you foolish enough not to memorise the contents of each week's Wrap, is the member of Dualchas I reported on a couple of months ago who has the energy to kayak to site meetings on nearby islands. Mary took some serious ribbing from her partners on that one but I think it would be hard for the twins to be churlish this time about her well-deserved 60 minutes of fame.
Actually, it's not just Mary's house that made the programme a treat – part of the film captured her meeting with Brian Mackay-Lyons in Nova Scotia and visiting some of his fabulous houses. For those of you who don't know about Brian's work and who've missed his inspirational lectures on the two occasions in recent years when he's managed to interrupt his busy schedule to visit Scotland - believe me you've missed out big style. It's not often you get two outstandingly good architects together on the box, even if the programme itself needed the skills of Poirot to track down. Perhaps we should all lobby Rupert Murdoch to put the programme out again on a more easily accessible channel; for her part, Mary received a reasonable fee for having her house featured plus she got a free trip to Nova Scotia. All in all, not a bad deal for the lady in the kayak.
A+DS – another case for Poirot?
Looking back over the past several months' Wraps, I realise I haven't found an opportunity to return to the subject of the Scottish Government's review of A+DS with either a progress report or some thoughts on its conclusions. This omission, however, has not been down to amnesia on my part but rather to the interminable time it takes civil servants to deliver on these things. The devil in me suspects that the thorny subject of what A+DS is and what it should really be is bogged down by two things: the endlessly-discussed but never-quite-appearing transformation of Scotland's planning process and the perceived need to push through the Donald's new town with attached golf course as quickly as possible without the latter subject being attacked by a mouthpiece that actually contains some teeth.
So, what, if anything, can we look forward to at A+DS in 2009? There seems to me to be only five things said review can usefully address – the design review process, the organisation's 'enabling' role, its so-far largely invisible research remit, its staffing and its board. Now, the first of these was deliberately intended to lack molars (else why get rid of its predecessor, RFACS?) so don't anticipate much change there; the second was never particularly clearly defined and in other instances might be seen as an opportunity for reductions in both scope and funding; the third appears to date to be only another means by which the Architecture Policy Unit has been able to surreptitiously channel sums from some other government budget into the Lighthouse's coffers and thereby allow its lights still to burn, but don't expect any recommendations for this to end and real research to begin; and the fourth – if we accept that the status quo of the previous three points will remain largely unaltered - is probably the least contentious, i.e. its relatively small staffing level of 12 people.
And before you think I've forgotten, there does still remain the fifth thorny issue – the over-inflated size of the quango's board. Quite how it ended up with 24 members – twice the number of employed staff – is anybody's guess, but it's difficult to think of any major organisation in the world (other than the Royal Navy which actually has more admirals than it has ships) that would consider itself to be an efficiently functioning unit with such an unwieldy superstructure. Now I know Edinburgh is a place where people join committees to provide them with a social life, but I doubt in this instance whether the sheer number of members can all get to know each other in the few meetings a year they are required to attend, never mind confront the planning and architectural challenges of the day. Being a little too damp to ignite, the entirety of A+DS may not end up on the quango bonfire, but no one could surely suggest that it might not function more effectively with rather fewer bums on its boardroom's comfy chairs?
Joining the club
One of the odder things to occur when there's a construction industry downturn is that – with so little being built or being planned – the London architectural press has the time to enrol in creative writing classes. How else would a non-story about supposed discord between the RIAS and the RIBA over fees and titles ever merit a single column inch? The fuss in both the AJ and BD seems to have been about the use of the word 'Associate' a term the Rutland Square bosses accord to the bulk of their membership, qualified architects all. The Portland Place crew, conversely, seems to think this is an equally good title to give to those Part II graduates who, despite the burden of seven years of accumulated student debt, might still feel its worth shelling out a good few hundred pounds to have the warm comfort of the professional club wrapped around their unemployed shoulders. Call me a sceptic if you like, but I just can't see this wheeze being the easy income generator RIBA Councillors are looking for.
The story itself will surely struggle to survive to the other side of Hogmanay, but had the RIAS chosen to stand on its dignity and assert a degree of independence from its metropolitan Big Brother, it could have given us all some amusement and made RIBA President Sunand Prasad an Associate instead of awarding him an Honorary Fellowship at last week's inaugural Fellows' Christmas Reception. The party was held in what was once St Thomas' Church but more recently home to the late and unlamented Berkeley Casino. The venue is currently a building site but will soon become a place of evening entertainment, its hitherto concealed interior having been opened to view by Glasgow nightclub supremo, Stefan King. Given his sponsorship of quality bubbly on the evening and the allusion by RIAS Secretary Neil Baxter to the possibility of more of the same next year, I wouldn't be too surprised were an Honorary Fellowship for Stefan to be announced this time next December. That said, anyone who can help deliver a feel-good factor to RIAS events in these troubled times has to be welcomed with open arms.
Zaha-stan
I recently mentioned the way in which Zaha Hadid had extended her interest in deconstruction to language or, more accurately, phonetics, and happily another example of the challenges of dialect has emerged to confirm my point. Given that she has yet to complete a building in England, I'm sure it's as much a surprise to her as it is to the rest of us that she finds herself with planning permission for a mixed use residential and commercial development in the picturesque east London quartier of Hackney, especially in one of its finest squares. Whilst I would be the last to suggest that the good council for that area could at all be associated with the less than democratic instincts we have already noted exist in the locations of many other Zaha projects, I fear that once again her hearing has been playing up and brought her not to some questionable territory the name of which ends in -stan, but instead to the people's republic of Hoxton. A small tip for the future, Zaha: monophthong is not the name of a Burmese general.
Digging around the old town
Still on phonetics, I'd meant to namecheck Oliver Chapman's new studio cum gallery space on Edinburgh's St Mary's Street before now. Ollie hasn't moved terribly far – no more than 150 metres and a little bit uphill/upmarket from the site of his former premises at the Salvation Army hostel end of the Cowgate. What attracted me to the new location though was the sign above its door that indicates it is a 'Schop'. Now I know the bold Mr Chapman (who's had a good year really) is a bit of a chorister and I thought perhaps he was performing in 'Cabaret' this Xmas – you know, as the little guy who announces things before Sally Bowles comes on stage and who has a really sinister, guttural voice - but I quickly realised this was too seasonally specific to be the reason and in any case he's neither short nor deep throated. So I looked up what the word means in Dutch and discovered that a schop is really a shovel, if you get my drift. So, at least there's one architect in these difficult times who's still capable of calling a spade a spade, albeit that the full humour of the reference may be a bit too deeply buried.
And finally…
I neglected to mention the other week that Douglas Forrest (a.k.a. Acanthus Architects DF) has joined Gareth Hoskins on the list of Trumpy Old Men, having been commissioned by the Donald to design the clubhouse for the 'Trump International Golf Links' development on the Menie Estate in Aberdeenshire and it seems only prudent to refer Douglas to my previous tip to Gareth.
That said, and notwithstanding big Don's position as the world's leading tonsorial engineer, the man with the mum from Lewis has, somewhat bizarrely, appeared on a shortlist for the 'Scot of the Year'. The competition has been launched by the ScotsCare charity, with the winner being announced on 25 January, Burns' birthday and the beginning of the Year of Homecoming. ScotsCare, I discover from Google, is "the charity for needy Scots in London" so maybe Gordon and Alastair were the ones who put forward our man in Manhattan for the title, since he makes it onto the list "for his investment in the country".
Now, regular readers of the Wrap will know that I've been a bit sceptical about Mr. Trump's much-mooted "billion pound" investment and, unless I'm mistaken, few of the promised spondulicks have so far headed their way to Aberdeenshire. It may be of course that they have been a bit tied up in one of the more innovative hedge funds around, but the Donald's description of Bernard Madoff, erstwhile proprietor of said fund, as "a sleazebag" and "a total crook" suggests all is not well between the two. Given the breakdown in their relationship, I can't now see Mr Madoff – a keen golfer with a handicap of 9.8 – signing up for a mansion at Menie. Still, given that he may not be completely at liberty for some time, he may choose instead to put his name on the waiting list. There must, after all, be others of similar calibre who have now moved ahead of him.
Back to December 2008