Jury's out on Jurys Inn
December 19 2008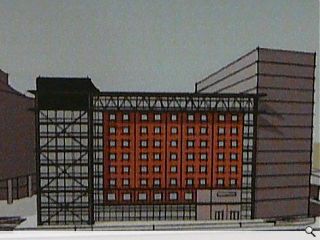 Jurys Inn are to proceed with a second Glasgow hotel, despite a damning verdict on their first venture by architecture pundits.
Occupying a waterfront spot at Lancefield Quay, within sight of its not so illustrious predecessor, the three star 250 bed hotel will occupy land bounded by Elliott and Lancefield Street.
Taking the form of a standalone element the hotel falls within a wider masterplan for the former BT site which entails a 13 storey office block ("a dynamic elegant vessel afloat within Lancefield Quay"), multi storey parking and apartments in later phases.
Urban Innovations have elected for a nine storey red brick, rainscreen and stone clad build attempting an industrial aesthetic more akin to Jurys recent King's Dock venture in Liverpool. In practice this approach sees the hotel attempt to embody the nearby Finnieston crane, the most architecturally significant structure in the area.
In attempting to marry such divergent forms the architects have devised a strong corner element to represent the trunk of the crane, an attic penthouse storey picks up imagery of the crane jib with the elevational façade presented as being suspended from the jib.
More prosaically the hotel will reinstate the street frontage and provide good quality paving and planting along Lancefield Quay.
Back to December 2008