Hoskins Vs Trump
December 19 2008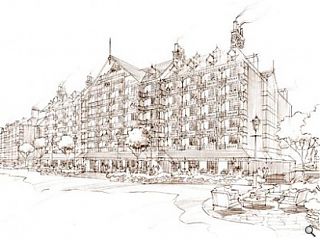 Gareth Hoskins has spoken out in the AJ over his decision to pick up the commission to design Trump's notorious golf resort, regarded as toxic by environmental campaigners.
A widely ridiculed "Brigadoon" style vision for the sensitive site, aided and abetted by Wimberly Allison Tong & Goo, was regarded as as shifty as the dunes they sat on by all and sundry.
The golden boy of Scottish architecture sought to burnish his role arguing that he was able to hold his ground against the pugnacious New Yorker and would not allow himself to become tarnished by association with tasteless exuberance.
Hoskins states: "We had some very frank discussions about that and showed them how we would approach the project, working with the landscape and creating a sustainable community."
Thus far Trump's officials are adhering to this script, in public at least, but it remains to be seen if Hoskins can contain the nouveau riche excess of America's most famous Scotsman or indeed if Hoskins has bitten off more than he can chew.
Back to December 2008