Sickly economy kills Health HQ
December 19 2008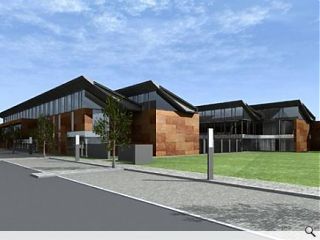 The AJ are reporting that Gordon Murray + Alan Dunlop Architects (gm+ad) have been hit by their second major blow in as many weeks with news that Glasgow City Council have pulled the plug on the practices Community Health and Care Partnership centre.
Despite having planning approval in the bag councillors elected to scrap the plan, reflecting a new climate of fiscal restraint.
Alan Dunlop is reported to have been scunnered by the double whammy, it having been assumed public funding would underwrite the scheme: "We thought because it was a public building it would be protected from the downturn. We've been working on it for over two years and we were all ready to go.
"We think it's a brilliant project that would change the way social services are delivered in Glasgow."
The £13.8m scheme had been the recipient of the Royal Scottish Academy Gold medal for design, prior to a single brick being laid.
As GCC pick up the pieces options being explored include securing: "new facilities at the Junction 24 business park development on a lease basis with a neutral cost effect to the Council."
Back to December 2008