Craigshill clears planning hurdle
December 15 2008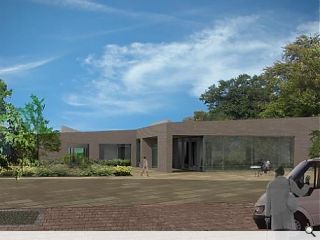 Planning permission has been secured for the Craigshill Learning Disabilities Centre in Livingstone for West Lothian Council.
Designed by macmon architects the flagship learning centre will offer a range of important services for people with disabilities, their carers and local communities.
The £3m purpose built facility will cater for up to 110 people providing structured day care, day respite, a specialist eight place severe autistic spectrum unit and an eight place behavioural therapy centre.
Eschewing the mundane brick and render approach a distinctive architectural style has been achieved via a low slung sloping structure that echoes the lie of the land and incorporates a bio-diverse roof in a bid to harmonise with adjacent woodland.
Combined with a minimalist materials palette of brick and glass, the unfussy low slung structure is designed to be at ease with its surroundings.
This visual aplomb is no mere eye candy however and serves a practical need to "reflect a bold, positive and inclusive vision of disability" whilst "demonstrating the most up to date and carefully developed thinking about designing and building for people with severe learning disabilities, challenging behaviours and sensory impairments."
Work will start late April 2009 and will be finished in 2010.
Back to December 2008