Railway revolution
December 15 2008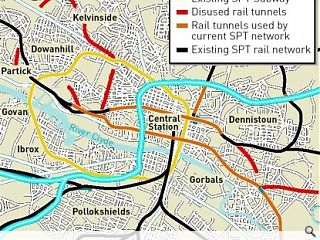 Trains could be pulling into St Enoch Station for the fist time since 1966, when the Beaching axe fell upon the gothic barrel vaulted splendour of the Victorian original, according to the Strategic Transport Projects Review from Transport Scotland.
Loss of the station in 1977 remains a source of anger for Glaswegians to this day.
The document postulates a back to the future style urban transport makeover for the city which would pursue a "step-change" in capability above and beyond the piecemeal, ad-hoc solutions we are familiar with. Necessity breeds invention and as rising passenger numbers and capacity constraints at both Central and Queen Street bite, the need for a new city centre station to alleviate congestion becomes ever more acute.
Mooted proposals include reconstruction of the spur across St Enoch's Goods Yard, of which only a short aqueduct remains at Trongate, to connect to the rail network south and east of the city. This would allow north bound trains to divert past Central, freeing up capacity whilst simultaneously delivering the connectivity benefits of the scrapped Crossrail.
The measures also include the establishment of a Metro system which would see the conversion of some heavy rail lines, such as the Cathcart circle, into light rail. This could then connect with new build lines such as along the proposed Clyde Fastlink route and several disused lines and tunnels, notably Botanics and London Road.
Such a hybrid system would be able to navigate heavy and light rail lines enhancing operational flexibility.
More fanciful measures include construction of a line below the city centre with a new subsurface station around George Square to connect the networks north and south of the city.
Interestingly the entirety of the above mentioned works are costed at an ambitious £3bn, particularly intriguing when the cross city tunnel alone was previously valued at between £2 and £4bn.
These proposals constitute a masterplan for what could be achieved in coming decades and will not be realised, if at all, until 2029. The projects do hold the prospect of being phased however leaving open the possibility of some movement on the ground in the medium term.
Back to December 2008