Michael Laird in fine fettle
December 12 2008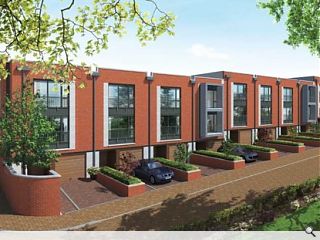 Michael Laird Architects have marked completion of their latest residential venture, East Fettes Avenue for Cala Homes.
Replacing a 1970's office building the rectilinear site with views north and south over playing fields provides the land to accommodate 12 townhouses and 72 apartments. An avenue of mature trees screens the site from the west.
The sloping terrain spans a six metre gradient which allowed the architects to garner strength from adversity by utilising the drop for a series of terraces and undercroft parking.
Bisecting the site is a linear park which interconnects adjacent homes whilst maximising long distance views and enhancing permeability.
The development is faced in a palette of red brick, an unconventional choice in a city where new build is predominantly buff. This was a conscious effort by the architects, facilitated by the planners, to escape from this aesthetic straightjacket.
Graphic by Pixel image
Back to December 2008