Game on at Ravenscraig
December 12 2008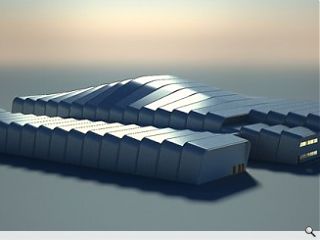 A £31.4m sport facility at Ravenscraig has hit the ground running after North Lanarkshire Council (NLC) ploughed an additional £2.38m into the development to ensure it went ahead.
The project had been mired in delay due to the rising cost of steel and problems on site.
Despite cost overruns thus far NLC are adamant that the project can be delivered on time and within the new budget.
Council officials regard the sports centre as a prestige project that will do much to foster sporting talent and provide the means for local young people to adopt a healthy, active lifestyle.
Designed by Doig & Smith and HOK Sport the facility will be a front runner in sustainability sporting a serrated roof which allows natural light to penetrate, minimising the need for artificial light and referencing the steel heritage of Ravenscraig.
A full-size indoor & outdoor football pitches, athletics track, nine court sports hall and six five-a-side pitches.
These assets will be put to use in the International Children's Games in 2011 and it is hoped they can be further utilised for the Olympic and Commonwealth Games.
The sports centre is the latest component of the £1bn rejuvenation of the former steel plant and follows hot on the heels of Motherwell Colleges flit to the site.
This public sector activity is in stark contrast with the private sector however where doubts have been raised about future funding. A tranche of money from Scottish Enterprise has already been lost with the government obliged to fill the breach.
Work will commence in earnest by the New Year for completion by 2010.
Back to December 2008