Seminary's prayers answered
December 11 2008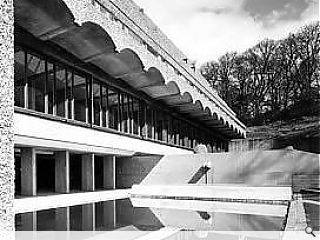 Cardross seminary's prayers could finally be answered following a divine intervention from the Church, which is now willing to sell the historic A-listed premises.
The abandoned halls and corridors of the crumbling concrete edifice have long echoed to the winds of decay as the holy site succumbs to nature.
After 25 years of rack and ruin Urban Splash, specialists in redeveloping former industrial buildings, have now stepped forward to undertake restoration work. This follows the agreed purchase of the seminary for a "nominal sum".
This would be conditional on Urban Splash raising sufficient funding and obtaining necessary permissions.
These plans are believed to involve transforming the holy landmark into health or sports centre, with additional residential buildings in the grounds.
To this end Gareth Hoskins Architects have been appointed to translate Isi Metzstein and Andy MacMillan's modernist masterpiece into a sustainable 21st century asset.
Of the proposals MacMillan said: "They are the most sensitive of all the proposals we have seen for the building considering its original use."
It is estimated that some £11m will be required to restore the dilapidated building to full use. Presently much of the surviving shell is unsafe with falling debris, weakened floors and dangerous roof structures.
Back to December 2008