High rise laid low
December 11 2008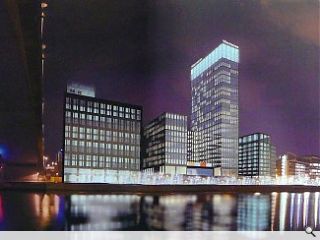 236 Broomielaw emerged today as the latest high profile scheme to be brought back down to earth with a bump by the credit crunch.
The international style slab would have towered 30 floors above the Clyde riverfront, an unprecedented sight amongst Glasgow's resolutely low rise real estate.
These modernist pretensions ultimately proved an ambition too far for overstretched Kenmore whose appetite for risk dissipitated in the stomache churning convulsions of the financial markets.
The unstable economic landscape brought about by earthquakes in the banking sector provided no firm foundation for building a sturdy business footing, toppling overweening ambitions.
This market cooling has put any hope of regeneration on the key site on ice until the property market heats up. The location remains hot property however and land owner Scottish Enterprise have stated a warm reception will be afforded to any new bid when the site is re-marketed.
The news comes as a blow to Glasgow's International Financial Services District and gm+ad architects whose monumental vision must now remain trapped in 2-dimensional limbo, a glimpse of what might have been.
With similar calamity afflicting Elphinstone Place future high rise prospects now rest on the shoulders of Glaswegian businessman Charles Price with Jumeirah, an onerous burden for one man who must now be feeling trapped in children's nursery rhyme, "10 green bottles standing on the wall"…
Back to December 2008