Reiach & Hall reach out to Forth Valley
December 9 2008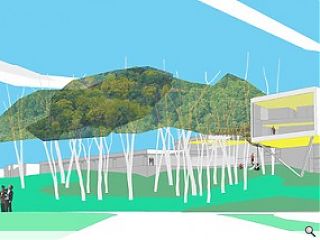 Edinburgh based Reiach and Hall, have been appointed to design campuses for Forth Valley College at both Stirling and Alloa in addition to helping develop a master plan for Falkirk.
The selection was made from a shortlist of five by members of the Board, Senior Managers and gm+ad partner, Gordon Murray. The £50m project is being financed by the Scottish Funding Council.
Linda McKay, Principal at Forth Valley College said: "Reiach and Hall are multi-award winning architects and their lead designer, Neil Gillespie, is currently Scotland's Architect of the Year so we are delighted to have them on board."
Andy Law, Reiach and Hall Project Director said: "We are delighted to receive the commission from Forth Valley College - it is an organisation with exciting aspirations and a vital role to play, and the building type is one where the architecture can make a real difference. The combination of the brief and the sites allocated provides opportunities for exciting buildings which will contribute significantly both to the College and to the communities in which they will stand."
In Alloa, the new high-profile campus at Hawkhill is the largest investment in a public sector building in the town for decades. Its town centre location is close to the newly-re-opened train station and close to the community, making it ideal for part-time or evening study, as well as contributing significantly to the regeneration of the town.
Work on this site will start in March 2010, to be completed by August 2011, with the first learners moving in that year.
In Stirling, the College has secured a new site at Kildean on the banks of the Forth. When completed, the new campus will be in one of the most attractive learning locations in Scotland, with riverside views and walks, and great visibility from the adjacent motorway. The new campus will also be at the centre of a new business growth area in Stirling, will have excellent transport links, and will be close to the College's existing Raploch Campus.
Work on site will start in August 2010, with completion in February 2012, ready for the 2012/13 academic session.
Back to December 2008