Airport extension takes off
December 3 2008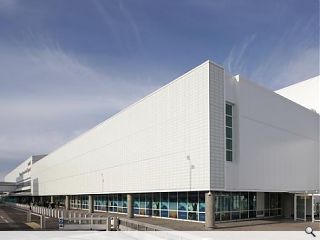 Alex Salmond officially opened Glasgow Airports new security search area today. Touring the facilities in front of specially bussed in school children, the First Minister explained: "I like taking Scotland to new heights".
After a brief party political ping pong over public transport development and the lack thereof within the Glasgow area between Salmond and Glasgow City Council leader Stephen Purcell, a plaque was officially unveiled to commemorate the opening.
3DReid's £31m terminal extension incorporates a security screening zone, larger than Heathrow's T5, and has built in capacity for further expansion should this be required.
Lift off of the 4,000 square metre development provides a new ground floor UK arrivals hall, shops, bars and restaurants.
Key to design philosophy is the "happy hour", that lull when passengers have cleared the stress of security check in but have yet to board their flight. British Airports Authority management are keen to up their retail offer to tap this captive audience for revenue.
The impending sale by BAA of one of its Scottish airports, likely Glasgow, is not considered imminent and 3DReid are not ruffled by any potential change of operator.
Uniquely for BAA a translucent cladding system known as Kalwall was used to clad the primary frontage, this material allows the penetration of natural light without the need to use expensive non shatter glass. The highly insulating material helps to raise sustainability in this most polluting of industries.
Communications Manager Justin Farmer explains that this infusion of natural light creates a: "calming ambience for the security space", de-stressing what can be an uncomfortable process.
In response to a recent terrorist attack new security bollards have been installed which can stop a 40 ton truck dead at 45mph. In addition drop off and pick up traffic has been diverted back from the main façade, restricting access to buses via a security gate. This is in line with the Home Office objective of strengthening UK airport security.
Flying high after completing on time and on budget 3DReid have prepared a 15 year masterplan for the airport to consider, amongst other things, how the terminal buildings connect with the airport rail link which is planned for land south of the multi storey car parks. There are no current plans for a second runway or to redevelop Terminal 2.
There is pressure to expand check in spaces which can become crowded in the peak summer season and proposals are in hand to extend desks eastward with a twin storey circulation space. Although 3DReid are unwilling to work on purely aesthetic measures due to fiscal restraint this logistical need would be advantageous in allowing the presently anonymous façade, currently entombing Basil Spence's original, to be redeveloped for visual emphasis.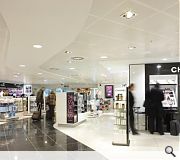 Back to December 2008