Buddies move for cultural centre
December 2 2008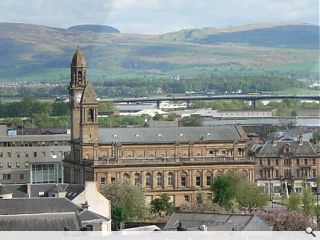 A £30m vision to rejuvenate Paisley Town Hall, Library and Museum & Art Galleries have been announced by Renfrewshire Council.
Attempts to transform Paisley into a cultural mecca are being spearheaded by Page\Park who confirmed the feasibility of a two pronged program which would first see relocation of the library to the town hall, allowing the existing library and museum buildings to be refurbished as a cultural centre at a later date.
Other envisaged changes to the town hall include a 175 seat theatre, a north-south "spine" linking with the Observatory, an off site storage facility for artefacts not in use and an east west concourse facilitating access to these facilities.
These plans remain unfunded for the moment but it is hoped resources from Historic Scotland and the Heritage Lottery Fund can be secured.
Back to December 2008