End of a chapter as Page \ Park turn the page
November 27 2008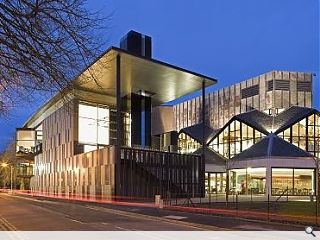 Page \ Park are celebrating a fruitful foray on the awards circuit by accruing a number of accolades for their recent work.
Most significant amongst these was the practice's Eden Court Theatre which brought down the house at this years Glasgow Institute of Architects Award. Putting in a convincing performance the Theatre has walked away with the Glasgow Institute of Architects (GIA) Award for Sustainability alongside a corresponding GIA award for its retail and leisure provision.
A further feather in the theatres well plumaged cap was proffered by the Inverness Architectural Association (IAA) who deemed Eden Court to be "The best new building in the Highlands".
This run of good form continued with Andrew Carnegie House which scooped yet another GIA Award, this time in the office / commercial / industrial design category.
Evidence that P&P are in fine fettle across a host of sectors was provided by wins in the residential arena. A housing scheme at Ballater / Wadell Street won the Saltire Society Housing Award 2008, further recognition for a scheme that already nabbed the CIOB Scotland Good Building Award 2008.
Culminating the awards frenzy came 167-169 Dumbarton Road, Yoker. This development of affordable homes accrued P&P's final GIA award for the year, a residential commendation.
This happy conclusion to 2008 bodes well for 2009 with the practice winning the shortlist to design new student accommodation for Warwick University.
Back to November 2008