Kyle Street style
November 27 2008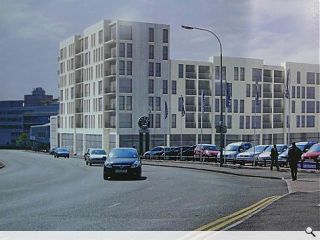 Cooper Cromar have submitted revised plans for 35-47 Kyle Street on behalf of John Watson & Co Ltd. The residential proposal with ground floor commerce has been reduced from 10 floors down to seven with a varied mass but contains an equivalent volume of flats.
A U-plan profile lends itself to enlargement should the neighbouring Douglas Park garage ever be redeveloped.
The scheme is fashioned from fair faced brickwork, zinc rainscreen and limestone column encasures atop a granite plinth.
The Cowcaddens district is perceived as dismal by some and in dire need of investment to present a respectable extension of the city centre, but will perhaps be buoyed by imminent expansion of the Buchanan Galleries.
Back to November 2008