First hit the ground running
November 27 2008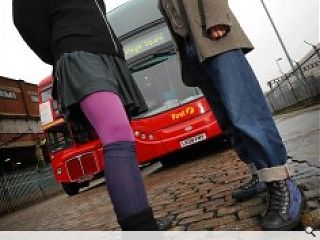 A common refrain heard by public transport users is "keep feet off seats", passengers might therefore be forgiven for taking a double take upon hearing transport giant FirstGroups latest proclamation… "keep seats on feet".
The unique inverse has come about after FirstGroup joined forces with fate tempting acronymees, TRiP (Transport Recycling in Partnership) to foot the bill for a range of new basketball style trainers.
Bus spotters may therefore be forgiven a sense of déjà vu on the High Street when encountering the latest fashion statements pounding our pavements. The trendy penny loafers sport not only seat moquette from First's bus and rail fleet but actual tyre rubber in the soles, proving the initiative to be no mere re-tread of old ideas.
The fun sneakers have a serious agenda however and are designed to mitigate the environmental impact of transport by diverting waste from landfill and incineration.
They say good things come in pairs and the bus fleets uncanny ability to come along in two's should serve it well in the footgear market.
Back to November 2008