Sculptor rocks the boat
November 26 2008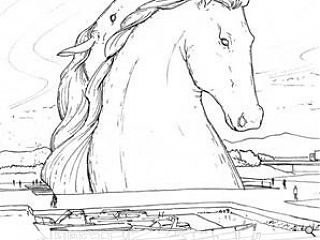 Mythical beasts of legend, the Kelpies, could soon be rearing their heads from myth to reality with construction of twin colossal equine sculptures.
The water spirits of lore take equestrian form to reputedly warn those in danger of drowning. Ominously for future water borne travellers however the beings are also said to take malevolent turns, causing and even rejoicing in the watery demise of nautically challenged sea farers.
Your common aquarium variety sea horse these are not.
Fashioned from steel at the Maryhill works of sculptor Andy Scott the pair are fortunately unlikely to possess any supernatural properties, their appeal restricted to romantic attachment and awesome scale.
The duo reflect their Jeckyll and Hyde personality with a dynamic taut form, mouth open adjacent to a calm twin. Designed as centrepiece of The Helix Project, a 740 acre park near Falkirk, the pair will dominate the surrounding landscape, a striking demark of arrival.
All of this ancient history will be brought to life with high technology, each initial maquette will be laser scanned to produce precise 3D digital pictures. Fabricators can then up-scale replicas of each plate by a factor of 10 to produce heads rising up to 30m.
Unlike most sculpture these two will not languish as mere inanimate object. Instead the horses will be put to work operating the first "displacement lock" on the Forth & Clyde canal. The 400 tonne pieces will tilt slowly through a five metre span to push water into the lock and raise boats into the canal, simultaneously providing the world with its largest rocking horse.
Fittingly this recalls the work of horses in powering barges prior to the invention of the combustion engine. In their day horses were the mainstay of Britain's canal network.
Scott perceptively sums up this transition from industrial to figurative art: "It was once a working beast and now it's just a show horse."
The Kelpies go out to tender next year.
Back to November 2008