Inaugural exhibition at Schop
November 27 2008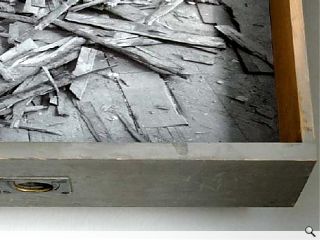 The exhibition 'Archived' by Bridget Steed marks the launch of a new gallery today in Edinburgh's Old Town. The space is to be called 'SCHOP' (derived from a 17th century Scot's term for shop or workshop) and comprises the front room of a traditional shop in St. Mary's Street.
Bridget Steed (23) from Catterline, Aberdeenshire, graduated this year from the Edinburgh College of Art's School of Drawing + Painting with an MA in Fine Art, specialising in printmaking. She is the most recent winner of the prestigious Catriona White Prize and will be showing new work alongside drawings from her final year project, which documents the history of 37 Inverleith Place, Edinburgh.
This imposing Victorian block was designed by David Cousin + John Lessels as part of the city's ambitious Improvement Act of 1867 and is now home to a lively mix of small businesses with tenement flats above.
'SCHOP' is an initiative by Oliver Chapman Architects, who also occupy the remainder of the property. Their curatorial policy is to organise four exhibitions per year and invite artists who have a real engagement in architecture and the built environment.
The gallery space is open to the general public during working hours and artists are encouraged to challenge expectations and develop new ideas about the city and the representation of contemporary living.
In March 2009, Donald Urquhart will occupy 'SCHOP' and host the gallery's second exhibition. Urquhart is an Edinburgh-based artist and widely considered to be one of the most significant artists working in Scotland today.
Back to November 2008