Student flats spur Beaverbank residential transition
May 26 2023
Ian Springford Architects have authored plans to replace a distribution hub and offices at Dunedin Street, Edinburgh, with purpose-built student accommodation.
Located in the industrial Beaverbank district the project aims to increase density by pushing the bulk of accommodation to the north, supporting an ongoing residential transition.
Outlining the constraints the practice wrote: "... the area around the site is in the process of evolving from a predominantly industrial area to a more residential neighbourhood. The streetscape is currently inconsistent. The site sits within a backcourt, faced with rear elevations and gable ends. Views out of the site are limited."
This informs the inclusion of a linked lower-scale block extending to the south, terminating in a prominent gable towards Broughton Road and separated from residential neighbours by landscaped grounds.
A palette of clay-facing brick, acid-etched precast piers & panelling and dark bronze aluminium window frames and screens have been chosen to introduce quality materials to the area.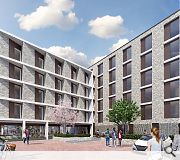 Different studio types will add variation to the stacked grid of accommodation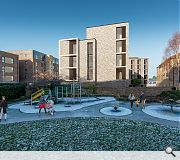 The student flats shrink from nearby tenements
Back to May 2023