Straiton neighbourhood to serve as a 'gateway to Midlothian'
May 25 2023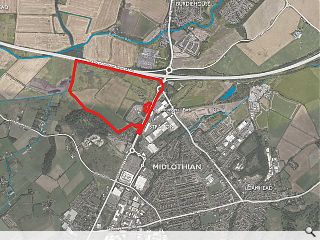 Proposals to deliver a walkable neighbourhood at Straiton, Midlothian, have been aired by Straiton Estates and EMA, combining a mix of commercial and community facilities.
Straiton North will rise on Straiton Road, bounded to the north by the proposed A701 relief road and include a neighbourhood centre complete with a possible health centre.
Other elements of the scheme include a wetland area to the north and a 2.4-hectare employment zone.
Colin Mclachlan, director of Straiton Estates, commented: "Our scheme offers a unique opportunity to support the Council's aspirations to develop Straiton into a people-centred place through creating a new 20-minute neighbourhood, successfully integrated into the area and forming a new mixed-use gateway to Midlothian."
A community consultation is scheduled to take place on 27 June between 16:00 and 19:30 at Loanhead Leisure Centre.
Back to May 2023