Lochside resort to transition Limerigg from coal to leisure
May 18 2023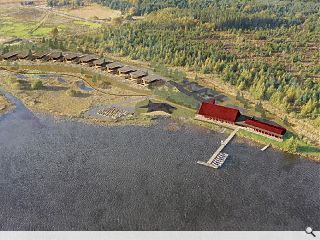 Detailed proposals to transform a former fishery in the heart of Central Scotland into a leisure resort have been presented by Fraser/Livingstone Architects and Real Estate Wealth Development Group.
Set on the northern shoreline of the Black Loch, close to the village of Limerigg, the work will enhance the site as a location for fishing swimming and water sports by providing holiday lodges and a cafe.
Reclaiming a brownfield site the new additions centre on a retained boathouse, which is to be reclad and wrapped behind a timber loggia for its new role as a 'Big Bothy' restaurant pavilion.
This is joined by 12 timber-lined lodges clad in corrugated steel, which snake their way along a ridgeline to the west. Projecting roofs offer sheltered verandas with corner windows opening onto private decks to enable guests to make the most of the land and waterscape.
Outlining the vision in a press statement the architects wrote: "The coherent collection of new forms sit perched over the existing boat-lined jetty, offering shelter and sustenance against the expansive backdrop of water stretching across the southern horizon.
"Turned to face towards the water, the forms splay out in a sequence of fingers that respond to the existing topography, reducing the lodge's impact from the water while providing snippets of views to the Loch from the approach."
Working with Rankin Fraser Landscape Architecture the team propose a programme of tree planting between the lodges to connect with Limerigg Wood. A play space is also planned, inspired by the coal bings that dominate the former mining landscape.
The design team includes Urban Animation, Will Rudd, DKI Consulting Engineers, David Adamson Group, Ecus and Transport Planning.
Back to May 2023