Malcolm Fraser takes PPP fight to the Scottish Parliament
March 24 2023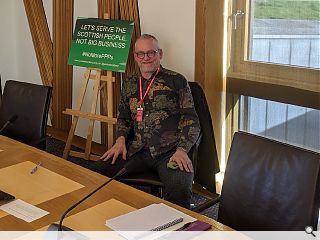 A position paper setting out a nine-point plan to end public-private partnerships (PPP) has been brought before the Scottish Parliament by Jubilee Scotland, a non-profit coalition campaigning to end 'debt slavery'.
A constant presence in procurement since their introduction in the 1990s campaigners argue that the time is right to agree on an alternative vision of how public services and infrastructure can be delivered that prioritises wellbeing over profit.
Birthing an alphabet soup of funding models including PFI, NPD, Hub and MIM, the PPP programme has been criticised for saddling the government with long-term debt in return for immediate funding to design, build, finance and operate public works. Hamstrung by capital grants and borrowing limits successive politicians have turned to PPP as the only way to fund costly public works, by drawing upfront capital costs from the private sector in exchange for long-term liabilities.
Setting out alternative procurement methods the grouping, which includes Malcolm Fraser of Fraser/Livingstone Architects and Common Weal, the pro-independence think tank, is seeking cross-party support for a nine-point action plan that includes higher borrowing limits.
Fraser said: "I have been campaigning against PPP – Scotland's ruinous Private Finance policies for public buildings – since I resigned from A+DS in 2006. Most recently I have been working with partners at Jubilee Scotland, the Common Weal, the European Services Strategy Unit and statisticians to critique the current malaise and set out a path to prudential Public Funding that uses the existing Learning Estate Investment Programme 'LEIP' public finance and other levers as a route forward.
"I have sought to make clear that this is not just an issue of financial propriety, but that a proper public route should lead to more responsible public buildings and infrastructure, with the issues of carbon, retrofit, placemaking and health and wellbeing that architects are natural leaders in, at their hearts."
The below recommendations will be put before future working groups to move towards this goal:
Let public well-being drive Scottish infrastructure investment
Do not allow the Mutual Investment Model (MIM) to be put into active use in Scotland
Act on the recommendations from Audit Scotland's review of the PPP scheme
Take the best parts of LEIP and expand these across sectors
Let the planned Infrastructure Company play a key role in moving towards public ownership of infrastructure and make it a centre of local government support
Mandate Scottish National Investment Bank to invest in public infrastructure projects
Rethink the use of prudential borrowing powers and address the budgetary incentives for using PPPs
Rebuild public sector capability and capacity for managing infrastructure
Let Net Zero be at the heart of Scottish infrastructure investment
Back to March 2023