Mack in limbo as a 'technical' error terminates architect hunt
March 6 2023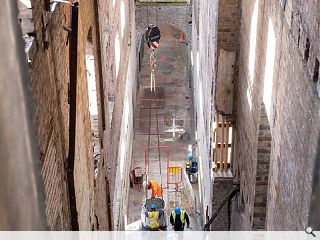 The Glasgow School of Art has come in for stinging criticism after the Mackintosh Project development board abruptly closed its hunt for an architect, one year after the multi-million project was put out to tender.
Subject to two devastating blazes the scaffold-shrouded landmark has been thrown back into limbo, throwing a question mark over the work of practices who have been working on tender proposals since last March.
Blaming an unspecified 'technical error in the scoring matrix used in the procurement process' the school said that its search would be halted and 'no appointment will be made', while it asks the architects involved to consider resubmitting their tenders.
Speaking to the BBC in the wake of the fiasco, architect Alan Dunlop said: "It's left the board open to criticism and led to further delay. I'm alarmed and sad because I thought the Art School had turned a corner after stripping out debris from the building's interior.
"You won't find any criticism of the process by the architects on the shortlist because they don't want to jeopardise the potential to get involved in the project again."
Initial post-2014 restoration efforts were led by Page\Park before a second blaze in 2018 threw their plans into disarray.
Back to March 2023