Lincoln Cathedral visitor hub bridges past and present
February 24 2023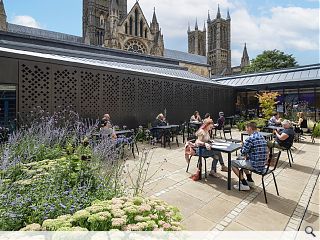 Lincoln Cathedral visitor centre is among nine buildings shortlisted for the 2023 RIBA East Midlands Awards.
The £16m project was designed by Simpson & Brown Architects to improve the setting and visitor experience of the historic landmark. Situated on the site of a former 19th century Deanery attached to cloisters on the cathedral's north side the fabric of the building has been sensitively updated to accommodate a refectory, community rooms, education centre and offices.
Connected directly to the cloister by a modern link building, that doubles as a shop and exhibition hall, the work has also permitted a fragile 12th century Romanesque frieze to be relocated to the new hall for additional protection.
In a statement Simpson & Brown wrote: "The main challenge has been to design a building of quality and stature in its own right, and of its own time, within the actual and metaphorical shadow of the adjacent Cathedral."
The winning projects will be revealed later in the Spring.
All shortlisted buildings:
Destination Longshaw by Architect Studio Gedye Ltd
Dryden Enterprise Centre by Evans Vettori Architects
Joules Head Office by Edge Kingsfield
Pond by Jonathan Hendry Architects Ltd
Maple Lodge by Levitate
Museum of Making Derby Silk Mill by Bauman Lyons Architects Ltd
Old Four Row by Daykin Marshall Studio
Rural Retreat by Manea Kella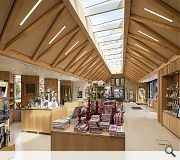 A new link building doubles as a shop and exhibition space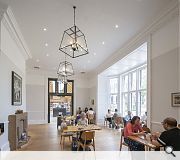 New additions match the timeless quality of the old
Back to February 2023