Rugged care home to tame the wilds of Sutherland
February 10 2023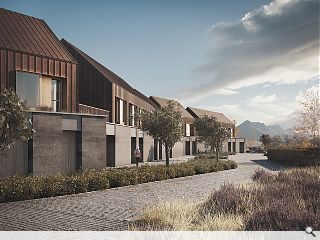 Proposals for an NHS care hub nestled within the dramatic landscape of North Sutherland have landed on the desks of Highland planners.
The Highland Council, NHS Highland and Wildland together with Oliver Chapman Architects propose to build The North Sutherland Health and social Care Hub, incorporating a care home, GP surgery and administrative facilities, on land near the A-listed Tongue Parish Church.
Standing on the frontline of efforts to tackle an ageing population in one of the most sparsely populated areas of Britain the project will introduce nursing home and community hospital provision for an area in need. Set within a National Scenic Area the care hub will sit on scrubland to the north of the village, extending the established linear development pattern along the A838.
Outlining the varying approaches to both principal facades the architects wrote: "On the west side, the upper level presents as three asymmetric pairs of pitch roofed bedroom blocks, with alternating heights of ridges and separated variously by gaps for a winter garden and external terraces. These gaps bring in lots of daylight and allow amazing views across the Kyle to Castle Varriach, activating small social spaces that animate the circulation spine of the care home.
"On the east side, the upper level is expressed as a continuous single-storey element with the dominant expression of solidity – accommodating the smaller secondary supporting spaces - either side of a more transparent centre where the communal dining area is located."
Set back from the road to minimise the impact on heritage assets the building form assumes three distinct elements snaking along the contours of the sloping site, achieving a domestic scale through breaks in copper-clad upper-floor bedroom blocks.
Back to February 2023