Network Rail choose the middle ground for Troon Station rebuild
January 25 2023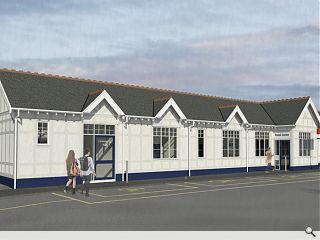 Network Rail is preparing to showcase its finalised plans for the redevelopment of the fire-damaged Troon Station ahead of a formal planning application.
Following a devastating 2021 blaze the station has made do with a temporary shelter and replacement booking office as a stop-gap measure.
Preferred designs by IDP Architects call for the reinstatement of the B-listed building with some changes to its size and entrance arrangements while adhering to the general aesthetics and footprint of 1892.
Proposals to erect a modern replacement or to fully reinstate the building as it was, were rejected following initial consultations.
Subject to the necessary approvals work could commence in the spring for completion by the summer of 2024.
A drop-in consultation will take place on 31 January between 16:00 and 19:00 at Walker Hall.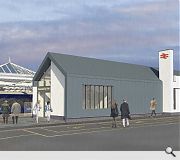 A bold modern design failed to pass muster with consultation attendees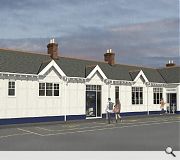 Plans to slavishly recreate the original station were rejected with 'redundant' features such as chimneys stripped from the design
Back to January 2023