Student housing demand prompts Leith residential shift
January 24 2023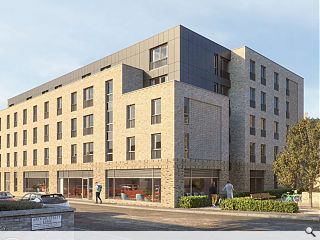 Plans for more student housing in Edinburgh have been prepared by CA Ventures and Flow Design Architects, transforming a workshop and yard at 27 Arthur Street with 112 residences.
A direct replacement for proposals by Morgan McDonnell Architects for 33 mainstream apartments on the same site the latest plans work to the same scale and footprint as set out previously.
Plans include the creation of a public community garden as well as part of a car-free development that will help reactivate the street frontage.
Employing a set-back upper floor descending to a feature double-height setback on the corner the rear of the scheme reduces to three storeys in height. A change in brick colour from the first-floor level to a lighter hue seeks to further reduce visual impact.
In a comparative design statement, the architects wrote: "A modest 1.3m increase in the height of the consented building is proposed to reflect the increase in floor-to-ceiling heights within the building, maximising the quality of the living space internally. Slight increases in footprint are proposed to meet student accommodation requirements and to improve fire safety by way of an additional escape stair.
"These revised proposals now activate the street frontage with the placement of vibrant and populated social spaces, located on Arthur Street, which provide circa 80% active frontage with the remaining 20% as servicing."
Landscape design by RankinFraser is split between three separate zones of community, private and planted areas.
Back to January 2023