Landsec open up on Buchanan Galleries plan
January 24 2023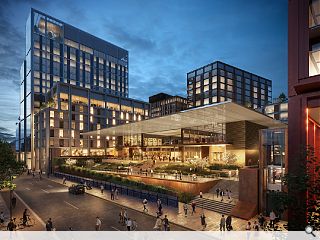 Dramatic new visualisations have been produced illustrating how a new Buchanan Galleries could transform Glasgow's city centre.
A range of options has been prepared for new open and green spaces as part of a mammoth redevelopment effort by owners Landsec to open up the area north of George Square with a grid of new streets.
The third round of consultations emphasises the creation of a new public park or pavilion above an existing railway cutting at Cathedral Street as well as a new accessible entrance to the Royal Concert Hall. Another key element of the plan will be the removal of an outsize multistorey car park to provide additional development land and public space.
Councillor Susan Aitken, leader of Glasgow City Council, commented: "These new images illustrate the sheer scale of the transformation involved in the proposals for Buchanan Street. Glaswegians care about their built environment and want to have quality public spaces that respect and build on shared history, so it's important they take the opportunity to help shape the change our city centre demands."
The third and final round of consultations is now open to view.
The design team is led by Foster + Partners in collaboration with Michael Laird Architects, Atelier Ten, Arup and New Practice.
Back to January 2023