Untapped potential of historic police HQ to be unlocked
January 17 2023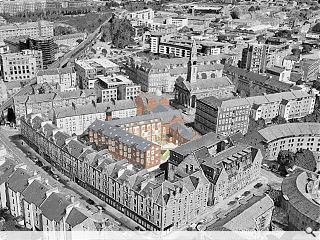 The future is looking brighter for Glasgow's B-listed former Central Police Headquarters amidst moves to convert the heritage asset to apartments.
Standing at the junction of Turnbull and St Andrew Street opposite St Andrews in the Square the plan is to preserve as much of the surviving 1906 fabric as possible including stone carvings and motifs.
Detail proposes to insert 45 new apartments within the structure, arranged around a communal central garden within a rear courtyard, accessible via a gated pend from Turnbull Street. Key changes include the infill of a 3m gap at the second floor on St Andrews Street, following historic precedent, as well as the reinstatement of two ground floor windows on Turnbull Street.
A 'watch tower' within the courtyard will also be retained from the roof level with concealed steel beams below supporting the structure. This permits the necessary layout changes for conversion to apartments.
The red brick cell blocks will also be retained with new windows framed by a smooth concrete effect render with light green powder-coated aluminium metalwork. To avoid potential issues around privacy windows to the rear take the form of protruding pods to angle views at 45 degrees.
Back to January 2023