Garnethill is on the rise with plans for a towering aparthotel
November 16 2022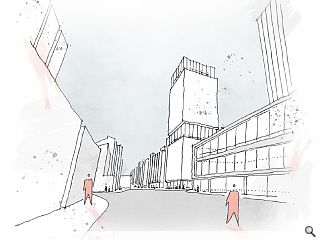 Early proposals to replace a vacant retail unit at 19-21 Cambridge Street, Garnethill, with a dramatic skyscraper have gone out to public consultation.
PMI Developments and Peveril Securities have tasked Haus Collective with drawing up options for a new hotel on the corner plot, replacing a three-storey dead frontage with a vaulting tower rising above the nearby Fleming House.
A series of 1:500 scale models have been prepared to illustrate the impact of high-rise development on the constrained site, building out to the street edge, with offsets to the south and west at higher levels offering the potential for roof terraces.
In a consultation statement, the applicant wrote: "The former Dunnes store retail frontage at ground level is addressed by extending the datum along the proposal on Cambridge Street, ensuring street level and human scale is considered within the design. The aparthotel entrance and front of house areas are located on Cambridge Street and Renfrew Street to create active frontage.
"A series of setbacks are introduced throughout the massing, responding to the former Dunnes Store and Fleming House rooflines, and wider cityscape beyond. In addition to carving the massing, these setbacks begin to proportionally split the facades as part of the evolving design."
A deadline for feedback has been set for 5 December.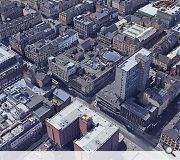 The corner plot will make a new contribution to the city skyline
Back to November 2022