Spirits bring new life to Polphail ghost village
October 20 2022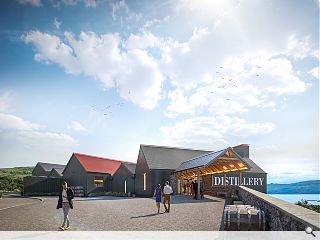 An uninhabited Argyll village is to live on as a contemporary craft distillery under plans filed by Organic Architects and Portavadie Distillers to resurrect the brownfield site.
Polphail ghost village at Portavadie, on the banks of Loch Fyne, was built in the 1970s during the oil boom but never inhabited, leaving only several spoil heaps from demolition.
These remains are to be landscaped with towering stills set within the slope of the topography, setting the scene for a coastal distillery and visitor hub to the east of a newly built marina. Superseding a 2017 plan for a more traditional farm steading-style distillery the larger craft-scale distillery is modelled on the strong protective gables of a traditional fishing village.
Designed to be viewed in the round from both land and sea the distillery sits under a cluster of five pitched roofs, breaking down its apparent scale by splitting the structure between its primary uses. The gables of each of these elements are then 'pushed and pulled' to fit in with the landscape. Seaward ventilation chimneys will serve as a visual link to the former village.
Setting out their design proposals the architects wrote: "A clear entrance point is defined by a timber porch canopy running through the building perpendicular to the main elements.
"A common issue with a new build distillery tour is getting the public up a level to view the equipment. In this concept, the public will enter on the same level as the distilling equipment, utilising the topography of the site to the building's advantage."
The design team includes Design Engineering Workshop and Morham & Brotchie.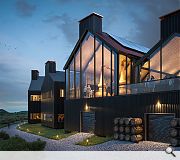 The larger coastal elevation reaches out to visitors arriving by boat
Back to October 2022