Tweedbank business hub to seed technology-oriented enterprises
September 23 2022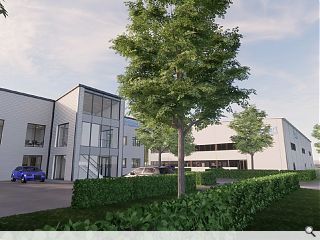 A Borders industrial estate is expanding at the hands of Camerons Strachan Yuills Architects with the submission of plans for new offices.
Located in a simplified planning zone the build will deliver three rental units for business or light industrial use at Tweedbank Business Park, with upper floors reserved as office space.
In their statement, the architects wrote: "The shared entrance to the building is via a glazed atrium with a central spine comprising of an elevator shaft in which the staircase wraps around. This will be complemented by the high-quality light grey horizontally laid Kingspan cladding and floor-to-ceiling glazing on the main atrium and meeting space facade...
"Other elevations feature a more practical and traditional glazing system of half height sill to ceiling windows. The proposal has two single-span roofs. This also allows for an array of south-facing PV panels and a traditional architecture style for the building surrounding."
Targetting technology-focussed businesses the development will encourage collaboration by drawing together like-minded local firms.
Back to September 2022