Up to 800 homes in the offing at new Leith Docks neighbourhood
September 21 2022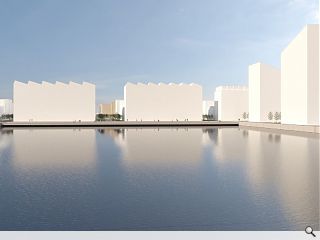 Forth Ports has launched a pre-application discussion to transform a disused Leith dock with up to 800 homes, commercial space and a hotel.
Harbour 31 will see a new boardwalk skirt Edinburgh Dock, with an events space and public square making the most of the waterfront setting. Historic features such as listed cranes and a pumphouse will all be retained as part of this work.
This post-industrial mixed-use quarter will sit to the north of a new residential neighbourhood, with urban blocks framing an extended Albert Road. A range of tenures is promised for these properties, including affordable, build to rent and private sale with precise proportions yet to be determined.
Overseen by CDA the plan calls for a pedestrian-centric public realm with re-used rails and stone setts connecting podium decks to the water via tree-lined boulevards.
In a statement the applicant wrote: "Areas previously closed to the public will open up to allow the city to enjoy life at Harbour31 with public parks and vibrant uses throughout, helping to create a real sense of community."
Proposals are expected to be finalised in the autumn ahead of an application for planning permission in principle.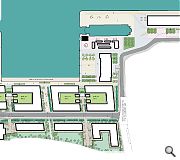 Terraced blocks will scale in height between five and eight storeys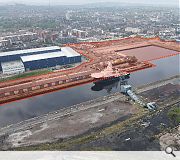 The brownfield docks will retain their industrial character
Back to September 2022