Donald comes up Trumps
November 3 2008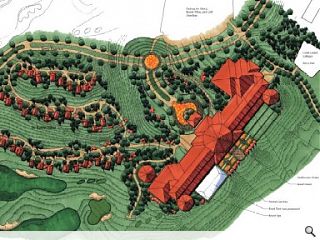 Donald Trump scored a hole in one today when his controversial proposals for a £1billion golf course skirted the rough of Aberdeen City Council to sail unimpeded over the accommodating fairway of Scottish Government.
the US tycoon plans to build two golf courses and hundreds of homes along the coastline of Menie, causing much local ruction.
Proponents of the venture cite the strong business case of jobs, tourism and investment helping to diversify the local economic base, citing environmental criticisms as par for the course in a scheme of this magnitude. Opponents however have ridiculed the "Brigadoon" Scotch vernacular of the main hotel block and criticisms have been levelled at the loss of natural habitat.
Trump does not quite win a free reign however, a cap of 500 homes has been aportioned to the developer and protection of sand dunes and wildlife has been stipulated.
Back to November 2008