Wilson's Weekly Wrap: Sometimes you just have to love a credit crunch, some illumination required & Another 100 years of the same
November 3 2008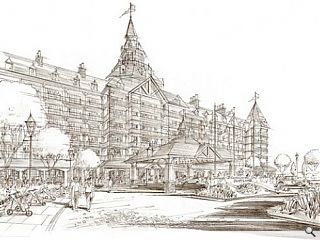 Sometimes you just have to love a credit crunch
Things seem to be moving quietly forward there in furry boot city as regards the Trumpton development, but could it all be an illusion worthy of Brigadoon itself? Yes, the Scottish Government has unveiled measures to update the planning system and allow such things to speed through and John Swinney has wasted no time in approving the Donald's plans. But as autumn turns to winter I can feel the cold wind of uncertainty entering my bones on this one. Even as permission is granted, has the moment passed for the world's most leveraged comb-over?
It didn't take much scrutiny to see that the 'world class' golf development was entirely predicated on the construction of a small town's worth of executive homes, with executive prices to match. Now that the housing market is on its knees, however, and likely – even if the banks start dishing out mortgages again – to remain so for the next few years, it's open to question who will purchase the new homes. Remember, this is mooted as an exclusive £1bn development for which the Granite City's hoi polloi will provide the navvies and skivvies, not the galacticos with the net worth to buy a dream home from Don. That plus the fact that banks (such as remain in existence) - including, presumably, Trump's – are hardly falling over themselves to underwrite speculative commercial developments suggests that our man in New York may now have some trouble finding the funding for this particular venture.
Two other issues add to my scepticism: the ongoing inquiry into BAA's virtual monopoly on the UK's major airports, including Aberdeen, and British Airways' almost total reversion to life as a London-centric operation, with virtually no UK-internal services from it likely in the future. It may be that, lacking connecting flights to Furry Boot International, the high net worth individuals targeted by the Trump organisation may be less inclined to make the considerable effort necessary to get to the five-star, 450 bedroom hotel, 960 timeshare apartments and 500 houses planned for the three mile stretch of coastline at Balmedie.
Of course, the Donald could knock on political doors for assistance but, given it's own financial predicament, Aberdeen Council is not best-positioned to do more dodgy land deals on this project or to pump in any actual cash. The Scottish Government, whilst frantically doffing its cap to the great one, will find the politics a bit tricky – money into Trumpton can only come from other hard-pressed budgets, a difficult sell in the current environment. Could it be that Trumpton only really made sense in the financial Never-Never Land now seen to be as illusory as a certain hairline?
Some illumination required
The sub-editors got it too easy: 'Lights out at the Lighthouse' was the headline this week as once again 'Scotland's Centre for Architecture Design & the City' headed across George Square with cap held out to Glasgow's beleaguered councillors for more money from the city's coffers. The Lighthouse is due to have its 10th birthday next year, but ever since it first opened it has been plagued by financial problems. Part of its difficulty, of course, has been the building in which it is housed, one of the few legacies from Glasgow's term as UK City of Architecture and Design in 1999 and the bright idea of former city architect, Chris Purslow, who insisted on its conversion to this purpose and indeed on the name itself.
With escalators from the ground to the top floor, the Mitchell Lane building was intended to be 'an emporium of architecture and design' but this concept has never really worked and it is an expensive edifice to run and inefficient to operate. Several solutions have been tried – rethinking the entrance area, re-jigging exhibition space to provide commercially lettable floorplates, moving the shop from the top floor to a lower level, and so on. In fact, any piecemeal solution that could be tried has been, but to little effect. The Lighthouse's location in an un-findable lane has never helped its cause either, and the financial expedient of introducing entrance charges – in a city that prides itself on its free museums – can hardly be said to have enhanced visitor throughput.
In the last financial year the Lighthouse (a charity) recorded income of almost £4.7m, but expenditure was almost £4.5m and it carries over sixty staff costing £1.368m, an increase of £319k over the previous year. Few organisations in the current climate - or even the one that has just passed - can handle a 30% p.a. rise in staff costs and the Scottish Government's understandable decision to cancel the previous administration's poorly conceived Six Cities Festival has left a major hole in the Lighthouse's sums for the coming year. The organisation's accounts have always been a bit opaque though, choosing, for example, to identify only the City of Glasgow as a grant provider when in fact the institution receives almost the entirety of the Scottish Government's Architecture Policy Unit's budget.
Whether or not the Lighthouse gains temporary respite from its financial difficulties via a few redundancies and some increased support from the City of Glasgow Council is incidental to the problems that have been apparent since its foundation. There can be little doubt too that being seen to take more from the public purse (if approved) in these difficult times is not going to make its relationship with the local press any easier. The story of the Lighthouse and its problems is an intriguing one that the Wrap will return to in the coming weeks.
Another 100 years of the same?
The current exhibition at Edinburgh's City Art Centre, 'Treasured Places: a Centenary' is a timely reminder of the existence of RCAHMS, one of the many quasi-architectural institutions funded by the Scottish Government. The Commission, which has looked after archaeological excavation records and architects drawings for the past 100 years (hence the title of the exhibition) has an annual budget of £4m and 104 staff, making the Lighthouse look almost short-handed by comparison. Speculation has been rife for some time that it might be amalgamated with Historic Scotland or the National Archives of Scotland, but given that A+DS is currently under review and the Lighthouse suffering continuing financial pressure despite being underwritten by record sums from Victoria Quay, wouldn't it be worth the Scottish Government's while to think the unthinkable and consider merging them all into one super-powerful architecture and built environment department able to record, monitor and project Scottish architecture to a wider audience?
The Scottish Government, after all, has made loud noises about wishing to have more power at Holyrood, but here is a perfect example of where a complete ministry could be created without too much trouble and in which the whole would be infinitely greater than the sum of the parts. Too simplistic? Add up the staff numbers and budgets at the Scottish Government's Architecture Policy Unit, A+DS, Historic Scotland, the Lighthouse, those parts of the National Archives of Scotland that deal with architecture and RCAHMS and then tell me how much each has impacted on your life over the past 5 years. Could we really not get more bang for the nation's architectural buck?
The best laid plans of mice and men….
Which brings me neatly to the National Trust for Scotland and why on earth it thinks it's in the business of running museums. The progression to a £21m new-build Burns Museum is now, apparently, a step forward with Burns' Cottage and Museum, Burns' Monument, artefacts and manuscripts being transferred to the NTS from the Burns' Monument Trust and land and 'the Tam O'Shanter Experience' (collectively valued at £2.8m) being given over to it by South Ayrshire Council. Both these moves should allow Simpson & Brown Architects' design to proceed to the next stage. The project already had £6m in place from the Heritage Lottery Fund and £5.5m from the Scottish Government, leaving somewhere between £4-7m to be found from donations, presumably from you and me. Due for completion in 2010 (a year after Burns' 250th birthday celebrations) the NTS will then be able to charge us all through the nose to enter and survey this aspect of our own heritage. `
And what gems there are – according to a Trust representative speaking excitedly on the radio, the local council has given around 4000 artefacts into its care, including – gasp – Burns' very own shaving mirror. OK, so there are some important original handwritten manuscripts too, but one fears the confusion so evident at the Culloden Battlefield Memorial Centre will once again manifest itself unless some restraining hand is placed on the NTS' shoulder. Put simply, is the intention to create a glorified Burns' Visitor Centre with some museum quality artefacts displayed cheek-by-jowl with copious amounts of NTS' bling, or is it to be bona fide museum with all of the environmental and security conditions that go with that appellation? If the former, then pressure needs to be applied to ensure the Trust does not let excitement – and Big Apple designers - get the better of it as happened at Culloden; if the latter then why is such an important part of the country's heritage not classified as a national facility and integrated into the infrastructure that already exists for such things? The National Museums of Scotland, after all, already holds vast amounts of material about Burns and has world-class experts on the subject in its employ, so why duplicate the resources available?
Sadly, the answers are all too obvious. Burns' Cottage is a real money spinner but too small to accommodate all of the visitors zimmering their way through its tiny door. It also brings money (said to be £60m annually) into the local economy, so upscaling with an attendant new visitor facility is a win-win for both the NTS and the local council. But these reasons do not a museum make and the record of the NTS' ability to distinguish between a visitor attraction and a museum is not an inspiring one. The Trust is currently advertising for a new Chief Executive and it can only to be hoped that whoever is appointed will take the trouble to re-address its original remit and thereby prevent another excellent building design being unnecessarily compromised by the NTS' vainglorious ambitions to be something it is not.
PR Tip # 9 – is your website working for you or against you?
Truth is, too many architectural practices think its enough to have a website and forget – or ignore – the fact that unless its kept up to date it's of little or no value. This plus the fact that far too many architects have no idea how many – or more importantly which – people have visited their site recently turn the entire exercise into a negative marketing proposition. The most important thing to understand is that people need reasons to visit your site and they need to know that it's there, so how do you increase the number of visitors to it and how can you find out whom they are in order to follow up on their interest?
The simplest thing you can do in terms of driving visitors to your site is to expand the number of links there are to it from other relevant websites. This can be built up over time, but even easier is to ensure that every e-mail sent out from your practice has a link to your website in the signature. Having encouraged people to it, of course you need to have something new for them to see or read. It doesn't need to be a new project – it can be progress on existing ones or it can be something as simple as a paragraph or two on some aspect of your practice's work.
Also, when visitors come to your site, give them the opportunity to leave their name and e-mail address. You could ask them to sign up to a regular e-mail newsletter as this is a really easy way to get them to return to your site again and again. None of this is rocket science or expensive – take a look at the sites of some well-known practices and see what features they have that could be applied on your own.
And finally…
Way back in June of this year I was musing on the fashion amongst some architects to dress themselves in black. It wasn't something I took too seriously, and only really worthy of fleeting mention in the Wrap. A few months on and what do I find but that architect Cordula Rau has been collecting the thoughts of luminaries such as Will Alsop (A) to Peter Zumthor (Z) on why black clothes are the preferred choice for three quarters of respondents to a survey she has been carrying out since 2001! Quite who will buy and read this newly published book is anybody's guess (aspiring or manqué architects?) but for my part, I can't actually understand why a respectable architectural publisher like Springer Verlag feels the subject is worth chopping trees down for.
Back to November 2008