In the Zone
November 3 2008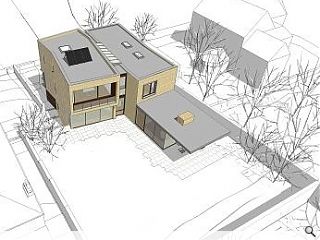 Zone Architects have obtained planning permission for a contemporary styled house located within a former playground of St Serfs School, Edinburgh.
The school is situated within a conservation area along a tree lined boulevard dominated by substantial nineteenth and twentieth century villas.
The body of the school has come full circle as what was once a residential home is converted back to that incipient form.
Context is observed by building up to the full three storey height of the prevailing landscape, this volume is "split and kinked" to allow natural light deep into interior spaces by way of a skylight positioned above the stairwell.
A south facing walled garden provides privacy in opposition to the large public rooms which engage the street.
Back to November 2008