Glasgow trails 'People First Zone' to put city on the front foot
August 4 2022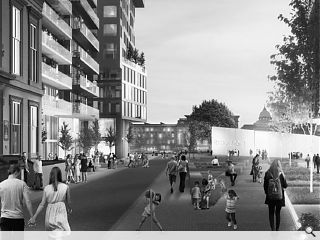 Glasgow City Council, supported by Sustrans, has launched plans to re-engineer the city centre from the Clyde to Cowcaddens to favour pedestrians.
The City Centre Transformation Plan (CCTP) will kick vehicles to the kerb by remodelling the public realm to encourage walking and cycling, limiting road access to emergency services, public transport and deliveries. Within the central zone, pedestrians will be able to cross narrowed and traffic-calmed streets, freeing up space for pocket parks, 'parklets' and cafes.
Councillor Susan Aitken said: "We can move away from an area which is car-dominated to one that is healthier for all who use it and which will contribute to our active travel and net-zero targets. Much less traffic, but better connectivity, would deliver real benefits for city businesses, as well as residents and visitors."
"This is a chance for Glaswegians to imagine a centre that is focused on the needs of people and is environmentally friendly. The city centre would become an urban heart people want to spend time in, rather than just pass through."
Key interventions include the formation of Mitchell Plaza, an extended bridge deck over the M8 at Charing Cross and a northern bus hub opposite the Royal Infirmary.
The draft CCTP strategy is now subject to six weeks of consultation before being presented for final approval by the end of the year.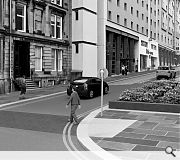 Pavements will be enlarged throughout the city centre reducing crossing times and providing additional public realm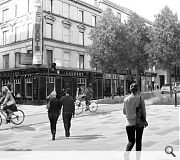 The draft plan has been prepared by engineering group Systra and environmental consultants Ironside Farrar
Back to August 2022