Pop-up pods and public realm to rekindle post-Covid village life
July 29 2022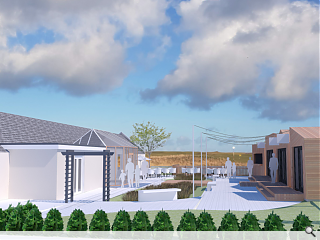 David Murray Associates (DMA) has secured planning consent on behalf of the Udny Arms Hotel, Newburgh, to establish a public open space and demountable 'pod' accommodation for use by local producers and suppliers instead of expensive retail premises.
The initiative follows the failure of a prior bid to build five townhouses with the new owners now prioritising an expanded public realm to complement the consolidation of the hotel to 12 rooms (down from 33) within a refurbished main building.
Works will focus on improved outdoor space around a newly created coffee shop within a former garden suite, establishing something more akin to a traditional village square. To activate this space flexible business pods, each suitable for a range of retail, exhibition or office uses, would be installed to complement the Main Street offer.
Inspired by traditional fishermen's sheds the timber-clad pods will come in a variety of sizes of up to 16sq/m with large openings to attract a broad array of potential tenants.
In a design statement, DMA wrote of the pods: "These will allow local producers and suppliers to use the space to fill a gap that currently exists within the present retail offer of the village or provide businesses that have perhaps been started during lockdown a means of renting out space and testing the market with their product at very little risk."
Refurbishment of the main hotel is expected to get underway later this summer following the earlier return of two annexed townhouses back to residential use.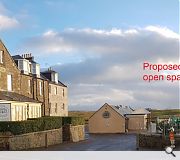 A windswept car park is to be turned into a pedestrian-focused environment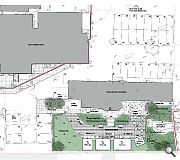 Four pods will frame a landscaped open space
Back to July 2022