Scottish Prison Service ushers in a new era of community custody
July 28 2022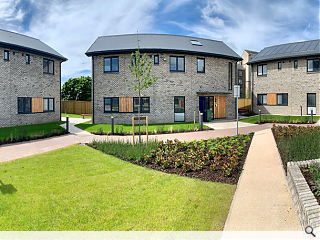 The Scottish Prison Service (SPS) has completed its first women's community custody unit, billed as the first facility of its type in the UK.
Designed by Holmes Miller and delivered by Oberlanders The Bella Centre in Dundee is the culmination of efforts to change the way women in custody are supported by rethinking approaches to large-scale incarceration in favour of smaller community custody units (CCU).
Offering 16 places the centre is unique in the prison estate for forgoing the use of barbed wire, barred windows and high walls in favour of a domestic arrangement of house-style accommodation arranged around communal living spaces.
Residents will be supported to live independently during their stay by taking responsibility for personal care, laundry and housekeeping. Visitors and the take-up of activities are also encouraged to support reintegration within the community upon release.
In a statement, the SPS said: "Every woman allocated to a CCU will have undergone a robust risk and needs assessment process. The units will accommodate women of mixed custodial sentence lengths and women will, following appropriate risk assessments have the opportunity to access the community. Living in the CCUs will enable these women to foster stronger and closer links within the appropriate community support agencies they will be working with prior to release.
"For women serving long-term sentences, the facility will function similar to the top-end facilities that operate in the male estate - enabling a period of testing in less secure conditions with increased community access prior to release."
A second CCU, the Lilias Centre, is scheduled to open in Glasgow later this year.
Back to July 2022