Construction is underway on a landlocked quarry surf spot
July 20 2022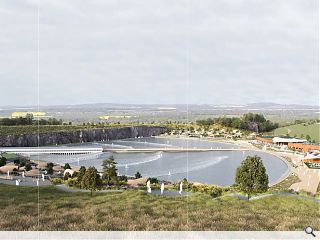 Groundworks have commenced at a disused quarry near Ratho to deliver a £55m inland surfing destination, the first such project to be built in the country.
Wavegarden Scotland is expected to welcome over 180,000 tourists and surfers per year once it opens in the summer of 2024, drawn to a range of attractions including a surf school, guest accommodation, a cafe and retail.
The centrepiece of the 60-acre country park will be a lagoon with a capacity for generating 1,000 bespoke waves per hour using wave machine technology imported from Spain.
Andy Hadden, founder of Tartan Leisure Ltd which is developing Wavegarden Scotland said: "There has been extensive preparatory work going on behind the scenes with financial backers and with our design team and partners to ensure that this new facility will be a world-class leisure destination."
Beginning construction work is a special moment for all of the team and marks a major milestone in our journey." The project team includes Malcolm Construction; Atelier Ten; Oberlanders; HarrisonStevens and Ramage Young.
Back to July 2022