Terraced Irvine school opens up teaching with class base model
July 19 2022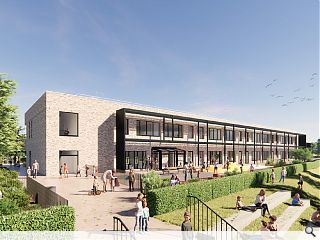 North Ayrshire Council and delivery partner Hub South West Scotland have trailed plans for a new primary school northeast of Irvine town centre.
Designed by jmarchitects the school will establish an urban edge to the developing Montgomerie Park district with student and staff breakout rooms positioned along the main frontage to animate the main approach.
Teaching will take place in a linear arrangement of 'class bases', the front of which will be left open to ease the flow of pupils between adjacent breakout areas. The remaining walls of each three-sided room will be reserved for teaching, glazing and customisable space for use by pupils and staff. Classrooms front onto a general purpose activity space and central spine including a feature social stair.
Learning will spill over onto a sequence of terraced external play spaces, each allotted a specific role from spill-out teaching, to socialising, soft landscaping and woodland based on proximity to the building.
The architects wrote: "Primary teaching spaces are nestled away from the site entrance and car park areas and have a southern outlook over the external teaching and play areas to the landscape beyond that will provide light and natural ventilation to the classrooms and the building in general.
"Ample play space is provided directly from either the ground floor classrooms or the stair cores for the first-floor classrooms, and there will be a mix of hard and soft landscaping, as well as an all-weather sports pitch."
Montgomerie Park Primary will combine a 342-place primary school with early learning and childcare provision for a further 47 children in the strategic development area, doubling as a formal public landmark within the developing residential area.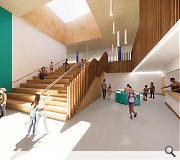 A social stair acts as a focal point for activity areas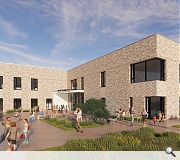 Secondary pupil access is provided on the southern teaching facade
Back to July 2022