Paisley Arts Centre to embrace the street with an intimate extension
July 12 2022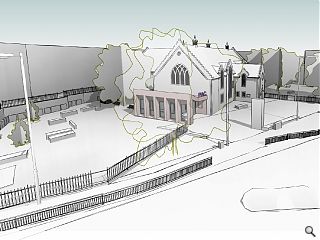 Clark Contracts has begun work to refurbish and extend Paisley Arts Centre to create a modern performance venue for Renfrewshire Council within the 250-year-old former church.
The changes include a redesigned public space on New Street to help open up access to the creative hub by removing railings and introducing new paving and seating. A graveyard will remain untouched by this work.
This will lead to a modest extension housing a new entrance and expanded bar to make the most of the outdoor space. Internally the main auditorium will benefit from retractable seating and improved back-of-house facilities will provide better AV capabilities as well as a new kitchen, dressing rooms and workshops.
Cllr Lisa-Marie Hughes, chair of OneRen, said: ""For more than 30 years, it has been one of Scotland's most vibrant small arts venues, but while work was done to the outside of the building in 2012, the facilities and audience experience inside it were in need of the upgrade which this work will deliver.
"Once reopen, the building will be able to offer a better range of events than before, bringing new life and footfall into the town centre and to the surrounding businesses day and night."
The extension has been designed in-house by Renfrewshire Council's property services department.
Back to July 2022