Breath of fresh air
October 31 2008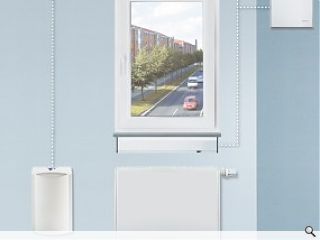 A new ventilation system from SIEGENIA-AUBI combines sensors with an extractor fan and wall ventilator to maintain air quality throughout the home.
SIEGENIA-AUBI divisional managing director, Adrian Vicker, explains: "The Aeronet is an automated system - the first of its kind, we believe - which enables the user to preset the air quality they want, or need, to keep their home comfortable. It also gives housebuilders a quick and easy Part F compliant solution."
A sensor on the Aeronet detects when the air quality drops below the preset level and the extractor fan kicks in. The system is linked to a wall ventilator, which pulls fresh air in. Once the air exchange is complete and the air quality balance restored, the system shuts off. The mechanical operations perform quietly and pollen filtration capabilities prevent intake of pollutants.
"As well as maintaining air quality, it overcomes the security issue of open windows, which is how most people get air into their homes, says Adrian. "This means people can leave the house, safe in the knowledge that their home is secure and that the ventilation will shut off automatically once the air quality is back to the right level, so they're not paying unnecessary running costs."
Back to October 2008