Campus design team sought
October 30 2008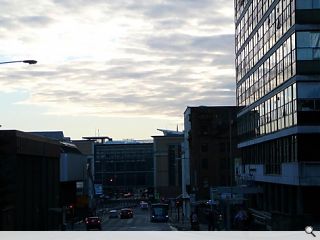 New Campus Glasgow Ltd – the company set up to deliver one of Europe's most ambitious development projects has issued the tender for the architect/design team for Glasgow's new city centre learning quarter. The team will design one campus across two sites for the 50,000 learners and 2,000 staff of the four city centre colleges – Central, Metropolitan, Nautical and Stow.
The integrated campus will be located at two sites: City Campus on Cathedral Street (currently home to Central and Metropolitan colleges) and Riverside Campus at Thistle Street (currently home to Nautical College).
The team will be appointed in the Spring of 2009. The design period will continue until building work commences in 2011.
"There is a tremendous interest in the architecture and design community around New Campus Glasgow," said Project Director, Iain Marley. "At over 80,000m2 it's a very large development by any standards and we have great ambitions to create new landmarks on these prime sites in the city. This is an international competition and it's completely open: The winning team could be from Govan or Geneva, Milan or Milngavie. We're looking for teams that can demonstrate the passion and capability required to help us realise our vision."
To give a sense of scale, the Allan Glen's building of Central College on Cathedral Street is around 7,500m2. The first building(s) to go up on that site will be around six times that size.
Over the coming years there will be a carefully planned process of buying land, demolishing or selling off old buildings and developing new buildings in a phased way that means the colleges will be able to operate 'business as usual'.
At this stage, the masterplan for the project is being finalised by Glasgow's world renowned architects, BDP. This forms the brief for the architect/design team. Meantime, consultation is continuing with staff and students to ensure the new campus meets the needs of future learners, and the business case is being compiled to be presented to the Scottish Funding Council in March.
Back to October 2008