Collective custom build movement gains momentum in Leith
June 10 2022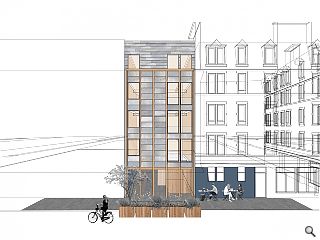 Fresh plans have emerged for an 'industrial' tenement at 2 Bath Road, Edinburgh to mediate predominantly residential areas to the south and commercial areas to the north.
John Kinsley Architects are leading the latest proposals for the brownfield site, with an echo of the practices work on the Bath Street Collective Custom Build. Referencing the galvanised steel materiality of The Silo in Copenhagen by COBE Architects the practice proposes another resident-led collective custom build that goes beyond Passivhaus standards.
Developed by the people who live and work in the current building the tenement will include a roof garden to the full extent of the plot with rooftop heat pumps used to power bathroom radiators, the only heating necessary given the high levels of insulation specified.
In a planning statement, the practice wrote: "The use of an industrial material to clad the solid areas of the facade makes reference to our neighbour and in combination with a strongly vertically-formatted timber frame will provide a lightness and elegance to an area with no prevailing material language."
On the ground floor, an extension to the adjoining pub will provide an active frontage, fully enclosed behind a glazed screen. The plans follow a previous taller scheme by Izat Arundell which extended accommodation to chimney cope level.
A spate of development in the area has seen Barratt deliver hundreds of homes on a former storage yard opposite while a car rental company has just submitted plans for a new facility to the immediate north.
Back to June 2022