Granton cultural hub to engage the public in research & conservation
June 6 2022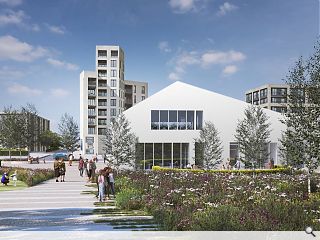 The National Galleries of Scotland (NMS) is staging a public consultation into the creation of a new collections facility in Granton, Edinburgh.
The Art Works is conceived as a public repository for the study, care and storage of cultural treasures in what is claimed to be the largest building in the country designed to Passsivhaus standards.
Led by John McAslan + Partners the plans centre on a 4.5 hectare brownfield site bounded by Waterfront Avenue and West Granton Road, transforming the space as a focal point for cultural heritage.
Connecting Pilton to the waterfront the scheme will augment the existing NMS visitor centre along a new north-south pedestrian route hosting a wildflower meadow, allotments and events lawn. Fronting Waterfront Avenue with an internal 'street' the proposals seek to spark 'creative collisions' by bringing artists, academics and conservators together while reaching out to the public.
In a statement the NMS wrote: "Along its primary floorplate at ground level, the street is animated with engaging elements open to the public and visiting partners – art rooms, lecture spaces, interpretation and research spaces, digital exploration facilities; and these could be interwoven with social spaces."
The pitched roof warehouse draws on the industrial quality of the site, increasing visibility of the collection while making use of north light and views to the Firth of Forth.
A planning application is expected this October.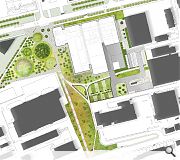 A north to south pedestrian route will connect to the waterfront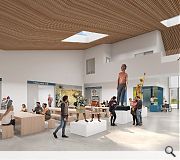 The pitched mass of the collections hub mirrors surviving production sheds of the Madelvic car plant
Back to June 2022