Golfhill Primary facade retention ok'd by planners
June 1 2022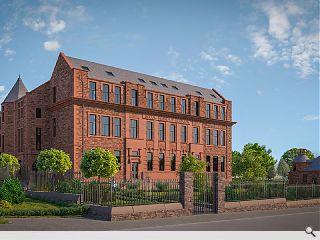 A bid by Spectrum Properties to repurpose the B-listed Golfhill School at Circus Drive,Dennistoun, has been given the go-ahead by planners.
Considered to be largely beyond repair the historic school is to be demolished, save for the principal southern elevation and twin octagonal towers to its east and west flanks.
Built by Alexander Nesbit Paterson on behalf of the Glasgow School Board in 1902 the building suffers from structural movement and partial collapse caused by groundwater action.
William Roddie, director of family-owned Spectrum Properties said: "The Golfhill School site had been closed because of subsidence and had lain unused for some 12 years before we bought it nearly four years ago.
"It is a substantial task to retain what can be salvaged of the building, including expensive and technically challenging façade retention but, as a local company, we feel an obligation to the people of Dennistoun to maintain a link to a history which means so much to so many people."
Cross-subsidy funding from a new build development on an adjoining site will fund the transformation, with 134 flats planned in total to designs by Jewitt & Wilkie Architects.
Back to June 2022