Collective Architecture mark 25 years with a new studio launch
May 26 2022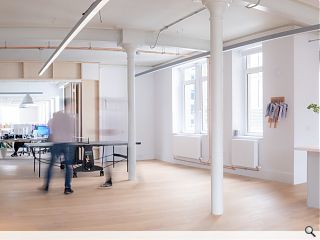 Collective Architecture has marked its 25th anniversary and a return to the office with the launch of a new Glasgow studio on Bath Street.
The employee-owned practice has moved from Glasgow Cross to a 6,738sq/ft studio at Albert Chambers which has been refitted to better reflect the ethos of the practice and to showcase its work to clients and friends. Housing 43 employees and the space to grow further the central office incorporates a model making and display area complete with an exhibition space and open plan kitchen, including a mural designed by artist Toby Paterson.
'Scottish Enterprise's 'Workspace Innovation' fund supported the appointment of Graven to oversee a series of workshops to develop ideas for the new space.'
Project architect Ewan Imrie said: "The design team was highly aware that the space had to work on a functional level, but also had to be a true reflection of our business, our ethos and our collaborative working practice. Our process was to distil the true nature and character of Collective Architecture and present this in a calm and welcoming space where our clients and team feel comfortable, motivated, and inspired."
Director Jude Barber added: "Our move to a new studio in Glasgow city centre is more than a physical change. Together, we've invested in our future, created space for growth and wider engagement between ourselves, clients and collaborators. Our business has its roots in Glasgow, has weathered many storms and continues to adapt and evolve."
Collective Architecture was founded in 1997 by Chris Stewart when it was known as Chris Stewart Architects, before rebranding as Collective Architecture in 2007 to coincide with the transition to employee-ownership.
Back to May 2022