Quarry Studios: Concrete Plans
|
Send to friend
18 Jan 2021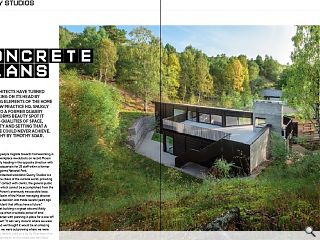 xMoxon Architects have turned home working on its head by introducing elements of the home to their new practice HQ. Snugly slotted into a former quarry in a Cairngorms beauty spot it exemplifies qualities of space, sociability and setting that a home office could never achieve. Photography by Timothy Soar.
As more and more people migrate towards homeworking in one of the largest workplace revolutions on record Moxon Architects are boldly heading in the opposite direction with a purpose-built headquarters for 25 staff within a former quarry in the Cairngorms National Park.
Enveloped by protected woodland Quarry Studios is a calm refuge from the chaos of the outside world, providing staff with a point of contact with clients, the general public and nature in ways which cannot be accomplished from the bedroom, or even Moxon's previously inaccessible base. Appraising Urban Realm of the Moxon managing director Ben Addy said: "The decision was made several years ago but we're very confident that offices have a future."
Behind any great building is a great site and Addy jumped at the chance when a suitable parcel of land appeared on the market with planning in place for a one-off house. Addy recalled: "It was very close to where we were working anyway and we thought it would be an amazing studio site because we were outgrowing where we were.
"It was a quarry, latterly used as a tip by Aberdeenshire Council's roads department, so the whole site was filled. The real advantage was level access once you removed all the rubbish. It's a perfectly level platform and a real contrast to where we were before which was halfway up a hill along a dodgy track."
Having cleared the site Moxon was presented with a blank and secluded canvas upon which to realise its designs for an equal parts public and private home. The building would be anchored by opposing 'vertical concrete chimneys' connected by a massive timber wall slicing through the low-profile main body. Employing a hybrid steel and timber frame, sheet metal roof and black timber walls the roof is set in parallel with the excavated quarry lip, falling in step with the quarry sides and ending at a covered collonade which runs toward the heart of the site.
This arrangement allows pairing interior spaces with appropriate outdoor areas so that offices open onto a courtyard and clerestory glazing connects the studio with a roof terrace.
Remediation of spoil and regrading the land has facilitated native planting Interlocking timber walls are formed from Douglas Fir, sourced and worked locally. Green credentials are further burnished by directing rainwater to a newly formed bog with natural ventilation and a 250m borehole tapping thermal energy from the granite bedrock.
Generously spaced working areas marry well with current social distancing rules and a public cafe will operate from the site for six days per week.
Maximising the freedom and flexibility that comes rom serving as client, contractor and architect Moxon seized their chance to experiment with new techniques. "As we were the client and contractor the subcontractors knew where they stood and there was a nice line of communication," notes Addy. "Ordinarily, we'd have gone to a specialist concrete contractor but speaking to people we decided to do it in-house which was risky because none of us had ever poured concrete before. The hydrostatic pressure of concrete elevated 8m in the air is huge so the formwork needs to be strong. We took risks but that saved half the cost on those elements and meant we were absolutely in control. The pressure was more about getting it right rather than getting it finished."
Pressures were eased no end by a painless passage through planning with Cairngorms National Park opting not to call the application in, permitting Moxon to work directly with Aberdeenshire Council. Addy stated: "It was constructive. We had already decided to push the bulk of the building into the quarry bowl and we were going to use the landform of the quarry to directly inform the building. Although it's a quarry and full of rubbish it is a special site. Everything around it is a Site of Special Scientific Interest, it's a precious piece of landscape in the Lochnagaar scenic area.
"It was always a tricky site for a house because it is quite overshadowed, it's very introverted but for a studio it's perfect. We see it as a studio in the woods so we've replanted the site with birch, hazel and rowan and juniper. It's densely planted like the woodland around it and the studio itself is looking out into that. It's an outward-facing building on an inward-looking site. It's very conducive to concentration in the office, you feel like you are in your little world. We consciously tipped up the roof at the back to reveal a large clerestory window to bring even light into the plan. You don't get glare and it's great for drawing."
Working from home may be the mantra of the moment but at Quarry Studios Moxon have hit upon an alternative path, one that encourages living at work. In doing so the practice is taking the first steps towards a health and wellbeing revolution.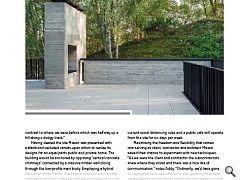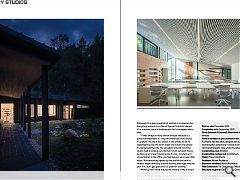 Back to January 2021